How To Sell A Car On Craigslist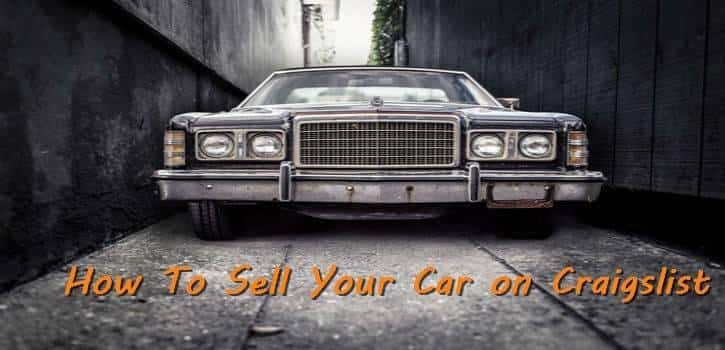 Estimated Read Time: ~6 mins
So it's finally time to get rid of that old daily driver. There are a lot of different ways to sell your used car, but one of the most common choices for owners is to turn to a little known site called Craigslist.
Founded in 1995, Craigslist has since been used by millions of people to buy and sell all sorts of things, from houses and shoes to computer parts and pets, but we're interested in the "Cars + Trucks" section, where a savvy shopper can find a diamond in the rough, and a clever seller can get rid of their old car for way more than a dealership would offer.
It's true. A seller who knows what they're doing can easily sell their car for more than what a dealership will accept as a trade in, and we're going to teach you how, with some patience, to do exactly that. From setting your ad to making a sale, we're going to break down the art of selling a car on Craigslist so that you can get exactly what you're looking for.
Before we go too far though, it's important to discuss safety for yourself, your vehicle, and your money. Craigslist is rife with scams, and they can be difficult to spot, so be extremely cautious and trust your instincts. If it feels like a scam, it probably is. If you find a buyer who seems legitimate, the next step is to meet in a public place and, if you're at all worried, bring a friend with you.
Preparing Your Car
Before getting started with an ad or setting a price, the first thing that any potential seller should do is to get your car cleaned. No one wants to buy a dirty car, so that means cleaning the inside and outside. Take it to a carwash, and if you have to, get the whole thing detailed. Use this as an opportunity to go around your car and make sure all your lights work and fix the cosmetic issues that you can.
Now that your car is clean, all the lights work, and you've fixed what you can, it's time to take photos. A parking space or a driveway on a sunny day is perfectly fine to set the stage, but be sure that your car is in the sunlight. As they say, "Seeing is believing," so provide your potential buyers as much to look at as possible, and that means a lot of photos.
For the exterior, take photos of the front, back, sides, wheels, and engine. While you're still working through the exterior, be sure to get a picture of the empty trunk, your spare tire, and your jack (if you have one). Finally, take a picture of the roof of the car if you have a sunroof, moon roof, or a roof rack.
Now you're ready for the interior. Take photos of the driver's seat, passenger seat, back seats, stereo system, auxiliary inputs or other special features, odometer, and—while the car is on—take a photo of the dashboard. You want the car to be on to show that there are no check engine lights for a potential buyer to deal with.
What should you do about damage? The answer is simple. Don't lie about it. Buyers will see cosmetic issues for themselves when they test drive the car, so while you don't need to go overboard on detail with your photos and disclosures, you will erode trust if you hide something. Also, if you're worried about privacy, you can also blur your license plate with most photo editing software.
Now that you've got photos of your clean car, it's time to set up your ad.
Setting Up Your Ad On Craigslist
Setting up your ad on Craigslist is a fairly straightforward process. Simply click the "Post to Classifieds" button in the top column on the left-hand side, then select the option "Select For Sale by Owner," which will take you to a new menu screen.
Here, you'll select "Cars & Trucks – by Owner." Now you're able to make your ad. Fill out all boxes. If you have privacy concerns, create a new email address with something specific to the car hunt so that it's easy to throw away when you're finished, and you'll avoid opening up your personal email address to the world. An email like "[email protected]" will work just fine. Just remember to check it frequently!
As far as pricing your used car, take a look at Kelley Blue Book (KBB) or Edmunds to see what their estimates are for a private party sale. Keep in mind that buyers will be shopping around, so look on a site like AutoTrader or CarGurus to see where similar cars are listed for sale too, then price your own according to its unique specs and condition.
For your post title, you'll want to be as descriptive as possible. Remember, you've got a lot of competition on Craigslist, so you have to write a title that really stands out. A title like "[Car Make] [Car Model] [Year] [Condition]" is a great start, but don't add mileage unless your car has low mileage for its age. Within your post, summarize the car's maintenance records, and be upfront about any damage or mechanical issues—particularly if they are noticeable in a test drive.
Now that you've got everything set up, gear up to set some appointments!
What To Bring With You When Selling A Car
Once you've found a serious buyer and have made an appointment to meet in a public place (many police stations happily let Craigslist users make exchanges in their parking lot or lobby), there are still some steps left.
First, bring all necessary paperwork. This includes all maintenance receipts, a photocopy of your title, and two copies of a contract of sale, both of which state the price, your name, and the buyer's name. You'll also want to bring the dealer's window sticker if you bought it new and still have it. The dealer's sticker is a great way to show exactly what you bought, and what your potential buyer will be purchasing.
Next, your buyer will probably want to go for a test drive. Let only serious, qualified buyers behind the wheel and always be ready to hold some kind of collateral while they drive if you're not comfortable being in the car with them. A cell phone or some other valuable is a great form of collateral. Ask to see their driver's license and insurance card before the test drive, which adds credibility and verifies their personal information, should anything happen during the test drive.
Closing the Sale
After finishing negotiations with your customer and coming to a price, you'll need to close the deal. You might want to close the deal at the DMV since both of you will have to head there after the sale anyway. Bring the original title, keys, and any spares you may have, as well as a screw driver. Ask the buyer to bring cash or a cashier's check (payable to you and with the stub attached).
Before you sign over the title of your old car, verify the authenticity of the cashier's check by calling the issuing bank. If you're good to go, complete the sales contract showing the vehicle's information and sale price, and sign over the title to the buyer, who will need both to re-title and register the vehicle in his/her name. You can then remove the plates from your old vehicle and turn them in while you're at the DMV. Finally, call your insurance agent to cancel your insurance and pat yourself on the back – you just sold your car!
This seems like a lot. Is there a better way?
Okay, it's true. Selling a car on Craigslist sounds good in theory, but it requires patience, negotiation skills, and a lot of time to set up appointments, screen buyers, and root out scams.
But there is an easier way!
CarLotz eliminates the hassle by selling your car for you. You never have to deal with the headache of finding a buyer on your own. Simply bring us your car, and we do all the work to get it sold. Plus you make thousands more than trade in. Not familiar with the CarLotz process? Then check out our Seller FAQs for more information!