CarLotz Co-Founders Named EY Entrepreneurs Of The Year 2019 Mid-Atlantic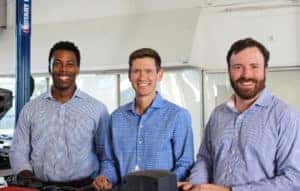 Michael Bor, Aaron Montgomery, and Will Boland recognized by global awards program for high growth and leading industry transformation.
CarLotz announced today that Michael Bor, Aaron Montgomery, and Will Boland, CarLotz co-founders, have received the EY Entrepreneur Of The Year® 2019 Mid-Atlantic Award. Firmly positioned as one of the most prestigious business awards programs in the U.S. today, the EY award recognizes leaders of high-growth companies.
The CarLotz co-founders, who were selected by a panel of independent judges, received the award at a special gala event on June 13, 2019, at the Ritz-Carlton, Washington, D.C. As a regional award winner, CarLotz is now eligible for the Entrepreneur Of The Year National Overall Award. The national EY winner will be announced at the Strategic Growth Forum®, a culminating event honoring the highest-growth companies, on November 16, 2019, in Palm Springs, California. The Entrepreneur Of The Year® National Overall Award winner then moves on to compete for the EY World Entrepreneur Of The Year® Award in Monaco.
The Entrepreneur Of The Year Award, the first and only global awards program of its kind, is designed to celebrate those who are building and leading successful and dynamic businesses. The CarLotz team was nominated for driving the company's growth trajectory while inspiring others with their vision and leadership. Since launching in 2011, Bor, Montgomery, and Boland have led the CarLotz team in the opening of multiple locations throughout Virginia, North Carolina, Florida, Illinois, and Texas.
"The Entrepreneur of the Year in the Mid-Atlantic award is a testament to not only the growth at CarLotz, but the solutions our team continues to create every day to make it easier to buy and sell a used car," said Michael Bor, CarLotz CEO. "We're incredibly honored to receive the EY distinction and to use it as motivation to continue to grow our unique model to more and more geographies around the country."
Due to the demand for its one-of-a-kind vehicle consignment model, CarLotz is expanding throughout the United States. Complementing its consumer consignment business, CarLotz is also the country's largest retail remarketer for commercial sellers, using its consignment model to enable leasing companies, fleet management companies, third-party remarketers, banks, credit unions and other financial institutions, and even other dealerships to directly access retail buyers for vehicles they would otherwise sell through wholesale auctions. Through CarLotz, commercial consigners generate higher sales proceeds, while buyers gain access to a large inventory of well-maintained vehicles at a discount to traditional retail prices.
"There are many successful entrepreneurs in this world, but to build something truly remarkable, you can't let anything stand in your way," said Debra von Storch, EY Americas Entrepreneur Of The Year Program Director. "EY is proud to honor the 2019 Entrepreneur Of The Year winners who are inspiring innovation without limitation and fueling growth and prosperity by being truly unstoppable."
About CarLotz, Inc.
CarLotz is a used vehicle consignment and retail remarketing business that enables consumers and corporations to make the most money possible when selling their vehicles. For a flat fee, CarLotz will prepare the vehicle for sale, market it nationwide, manage buyer questions and conduct test drives from its retail stores, negotiate a deal on the seller's behalf, and ultimately cut them a check when the vehicle sells. The company's unique consignment model typically generates sellers thousands more than trade-in and wholesale auction channels, while buyers shop attractive, competitively priced inventory online and through CarLotz retail locations. CarLotz was founded in 2011 and currently operates eight retail locations and reconditioning centers throughout the United States. For more, visit Carlotz.com.
About Entrepreneur Of The Year®
Entrepreneur Of The Year®, founded by EY, is the world's most prestigious business awards program for entrepreneurs. The program makes a difference through the way it encourages entrepreneurial activity among those with potential and recognizes the contribution of people who inspire others with their vision, leadership, and achievement. As the first and only truly global awards program of its kind, Entrepreneur Of The Year celebrates those who are building and leading successful, growing, and dynamic businesses, recognizing them through regional, national, and global awards programs in more than 145 cities and more than 60 countries. For more, visit ey.com/eoy.